WORKING AT IMPLICO
We Care
OVERVIEW
Implico has developed forward-looking IT solutions for the supply chain of energy and natural resources since 1983. We draw on our extensive experience – represented through our highly qualified workforce – for the benefit of our customers as we help them to optimize, transform and digitalize their processes. 
With the right colleagues on board, we can seamlessly oversee the digital transformation for our customers.
Unsolicited application
What we offer – an overview
Support for m

obile and flexible work

both at home and abroad

 

A

w

ork hours account

designed to serve your w

ork

/l

ife

balance

 

A works council

to

support

you at every turn

 

30

days'

holiday per

ye

ar as

stan

d

ard

 

Development pathways via

our

integrated career system

 

V

ocational training and continuing education

opportunities

 

Company roles c

onfigure

d

to your preference

 

E

vents t

hat

foster an open, team-oriented corporate culture

 

Contact with colleagues on an international level

 

A

growing

global team

 
Scope for growth, scope to perform
True innovation can only happen with a strong workforce, which is why we focus strongly on giving our staff enough opportunities to develop and ensure they are satisfied. Only those who feel comfortable can invest in relationships over the long term – both professionally and personally.
At Implico, "New Work" is not an empty buzzword; we have made it part of our culture. It sends out a clear message that we trust our employees to take responsibility – and they do exactly that.
There are four central pillars through which we invest in our employees:
Career
We have designed a career system that enables our people at Implico to envision their long-term personal and professional development – and plan for this accordingly.
Work hours account
All Implico employees have their own work hours account. This guarantees all colleagues receive the compensation to which they are entitled, whether in the form of pay or time off. We do not demand 'free' work out of a sense of loyalty. Our works council keeps a close eye on this.
Flexible work
It is extremely important to us to offer our employees flexible working hours. Staff at Implico can work 100% remotely if they wish, and we allow people to work from abroad. We make no concessions when it comes to ensuring our colleagues can arrange their schedules in a way that best suits them.
Continuing education
We introduced a training and qualification catalogue that our colleagues consult each year to determine how to further their career. We also have an Implico Academy, which covers relevant issues relating to our industry as well as key topics for the future, such as AI, machine learning and business intelligence.
"When in doubt, we put cultural fit above a person's level of expertise. This helps us to create a corporate atmosphere where people can work together well in pursuit of success."
Enrico Bille | Chief Human Resource Officer & Chief Legal Officer
+49 (0)40/27 09 36-0
Enrico Bille
Chief Human Resource Officer & Chief Legal Officer
What we're looking for right now at Implico
ASK FOR FORGIVENESS, NOT PERMISSION
We have high expectations
We work in an exciting, challenging industry that has a long history, yet is future-proof. To maintain our leading position, we are always looking for people to contribute to our projects by taking responsibility, pushing themselves in their career and setting themselves ambitious goals. We want people who are change-makers and who see themselves not only as team players, but as catalysts for transformation. 
The market in which we operate is in a permanent state of flux. Alongside a constant need for innovation, there are various external influencing factors that cannot always be controlled. This is why we expect our people to be highly flexible in terms of time and mindset and to have a fundamentally positive attitude that manifests itself as mutual appreciation and positive interaction on level terms.
This is what makes our work more incisive and life more satisfying in general. With this in mind, we are respectful and pragmatic in our communication with others.
Our motto is simple: Knowledge can be acquired, but culture needs to be nurtured. The latter is extremely important to us, which is why we work hard to ensure our colleagues fit into our culture and feel at home. When in doubt, we put cultural fit above a person's level of expertise.
At Implico, we are the embodiment of diversity, as evidenced by the fact that our workforce comes from all manner of backgrounds, countries and cultures.
DAY TO DAY
Meet the Implico team
Get to know the people behind Implico's success: find out what inspires them in their work and discover the many sides of Implico – from those who live and breathe what we do day in, day out.
Antonia Kmoth
Marketing Specialist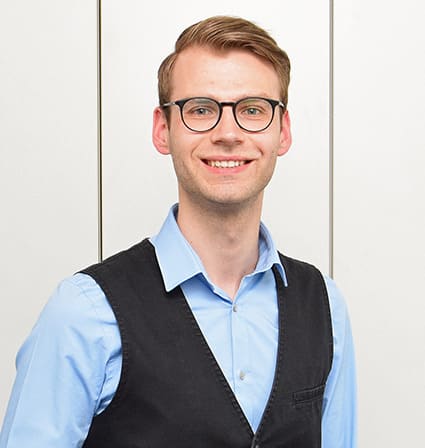 David Kröger
HR Generalist
Lilian Moussa
Information Security & Compliance Manager
WHAT WE EXPECT FROM EACH OTHER
The Implico Code of Conduct
Professional
Work Hard, Play Hard
Results first: We aim to create win-win situations for our customers and Implico together.

 
Resolute: We are decision-makers and consistent in our actions.

 

Satisfied: We love what we do and share our passion with others.

 

Customer-oriented: We think and act with our customers in mind.

 

Economical: We don't waste resources.

 

Driven: We perform to the best of our abilities every day.

 
Collaborative
Personal. Multifaceted. Consistent.
Cooperative: We always work with customers and partners on level terms.

 

Respectful: We talk to people; we don't speak down to them.

 
Dedicated: We support each other and are true to our word.

 

Responsible: We act independently in the interests of our own organization and customers.

 

Multifaceted: We build our community to make it as varied as possible.

 

Feedback: We give timely, personal and specific feedback and are open to assessments of our work.

 
Innovative
Boldly exploring new avenues. 
Creative: We find solutions and don't accept 'impossible'.

 

Decisive: We always question the status quo.

 

Studious: We make mistakes and learn from them.

 
Resilient: We aren't discouraged by setbacks.

 

No boundaries: We go well beyond the prevailing standard.