The industry standard
SAP S/4HANA SDM
Business made easier
Streamlined efficiency
SAP S/4HANA SDM* is a comprehensive solution for companies in secondary distribution. Developed and maintained exclusively by Implico, it is the only software factory for SAP in secondary distribution and fuels retailing. SAP S/4HANA SDM provides a broad range of functionalities to support transport dispatching and automate tedious manual bookings – especially booking corrections.
With this solution, you can facilitate better decision-making processes, ensure an efficient secondary distribution process, pave the way for efficient fleet management and reduced transportation costs, and deliver real-time insights for swift, informed decision-making.
* SAP S/4HANA SDM is based on the SAP product S4SCSD, which is available in the SAP Store.
6 reasons to choose SAP S/4HANA SDM
One source of truth
SAP S/4HANA SDM consolidates your IT landscape into one system, streamlines your operations and improves your business.
Customer-centricity
SAP S/4HANA SDM's customer-focused functionalities provide individualized service levels that foster customer satisfaction and loyalty.
Visibility
Coupled with IoT, real-time tracking provides proactive supply chain oversight to increase control and safety in downstream operations.
Shortened cash cycles
SAP S/4HANA SDM helps shorten days outstanding, which improves cash flow and financial performance.
Scalability
Built on a future-ready IT architecture, SAP S/4HANA SDM adapts to changing business needs and technological advancements for maximum sustainability.
Available as managed service
The full-service option requires no IT Infrastructure and zero IT management outlay.
We offer application support and enhancement, business consulting and business services from a single source. Our product and process experts at our Customer Support Center are ready to assist and will continue to guide you long after your go-live!
The official SAP standard solution SAP S/4 HANA SDM is developed and maintained exclusively by Implico. With 40 years of experience, Implico is the only SAP development partner and workbench for secondary distribution and fuels retailing.
Secondary Distribution in Motion
Everything in perfect order
This app allows users to find, review, approve and secure data collation documents with ease, after which the documents are posted in the system.
Efficient route planning
The IDM app turns route planning into child's play: customer orders and drivers can be allocated to trucks with ease when preparing delivery runs. Routes to be completed are displayed on a roadmap, as are vehicle depots, tank terminals and customer addresses.
CO2 footprints at a glance
With the Analyze Carbon Footprint App, users can calculate and display the emissions of all tank trucks and the trips they take. This guarantees full traceability at all times.
Core Solution Components of SAP S/4HANA SDM
1. Delivery order management
Creation, planning, tracking and commercial settlement of delivery orders for volumetric & gaseous bulk products and packed goods such as lubricants and gas bottles.
2. Telesales, CRM light, prescheduling, order creation
Single point of contact for active sales with all relevant customer information, such as credit management, note classes, historical data and contact information. Flexible, timely decision-making, whether data is saved as a quotation, order or sales contract.
3. Collective order (heating oil)
Transportation optimization by grouping customers to create multiple orders in one step.
4. Automatic determination of demand & order creation for end consumers
Enables consumption-based forecasts to organize customer resupplies as a basis for marketing campaigns and automatically created orders.
5. Partner system integration & data exchange (incl. monitoring)
Management and monitoring of data exchange for a wide range of integrated systems. A holistic view on all interface data with sophisticated follow-up processes.
6. Automated processing such as load & delivery results
Different data reconciliation types that are pre-configured with best practice loading and delivery processes for different modes of transport.
7. Process orchestration / pre-processing of data
Enables a fully integrated, automated order-to-cash process across corporate boundaries and uses details from incoming orders to automate the necessary follow-up processes.
8. Enhanced stock reporting
Exact information about your inventory on all units of measurement.
9. Fleet & driver management 
Manages trucks and drivers, their availability as per shift planning and current delivery executions. Optimized master data maintenance via a single point of entry.
10. Load & delivery (trip) dispatching
Improves and automates your dispatching: provides clear, effective support for dispatch planners and combines orders with existing resources (e. g. vehicles or drivers) with maximum efficiency.
Automatic processing of all relevant data within a trip, including transport loss allocation, left-on-board determination and freight costs calculation.
GET READY FOR A FUTURE-READY SOLUTION 
Implico AddON Solutions: useful expansions for more efficiency 
In addition to our Core Solution, we have several AddONs to make your business more streamlined and efficient.
Talk with us
Profit from our expertise
We know the industry inside and out, and our expertise enables us to provide customized solutions tailored to the specific needs of downstream companies. Our profound understanding of the market and its challenges ensures our clients receive the highest level of service and support in the industry.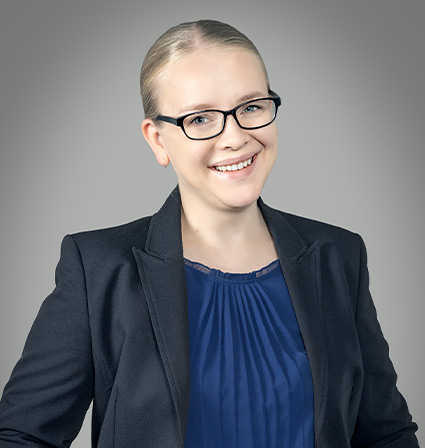 Outi Maksimainen
Teamlead SAP Support